Michael's Story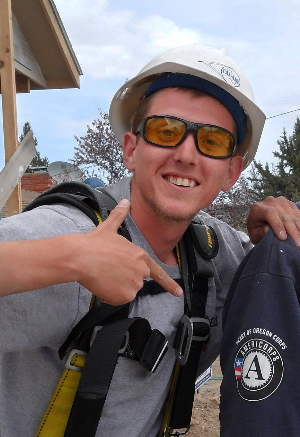 Five years ago, Michael was 16 and on a path to self-destruction. Drugs, delinquency, and recklessness were his way of life. He had dropped out of school and his viable options were dwindling. "I didn't care about anything at that point in my life," says Michael, now 21, reflecting on his younger self. He was out of control, headed for jail or worse.
Heart of Oregon Corps (HOC) was one of Michael's last alternatives. He joined a HOC program four different times; each time a troublesome incident forced us to let him go early on. After any one of these failures, it would have been easy for Michael to give up, but he made the hard choice. He made that choice again and again and kept trying until one day it finally stuck. On that day, Michael was a 20-year-old father on parole with six months of sobriety under his belt. Still refusing to give up hope, we welcomed him back into HOC's YouthBuild program. This time Michael maintained his sobriety, worked hard to earn his GED, earned a wage to help support his family, and found a meaningful connection in building affordable homes. He encountered countless challenges but was able to overcome them with determination and HOC support. His accomplishments allowed him to realize his own abundant worth both as an individual and in his community. At the end of his 9 month term with us, we didn't hesitate to recommend Michael to a local painting company. He used the resume and interview skills he learned at HOC and left our program for his first real job.
Michael's journey is proof that the right opportunity can make all the difference. He says it best: "the program truly changed my life. If I didn't do YouthBuild I would probably be in jail." Transformations like his are what inspire us, what we strive for. Michael had potential in him all along; what he needed most was a place like Heart of Oregon Corps to show him change was possible.