Thrift Store Re-opens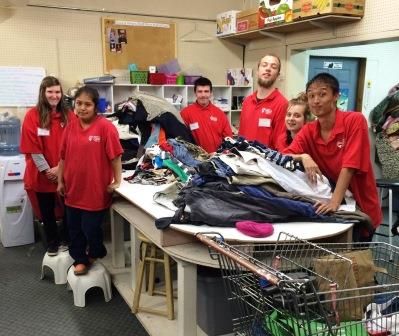 We are so heartened to announce the re-opening of our Heart of Oregon Corps' Thrift Store in downtown Madras. This store, operated by us in partnership with the 509J Jefferson County School District, is not your average thrift store. It is essentially run by Madras and Culver youth with disabilities who are preparing to enter the workforce. We closely partner with Madras High School to engage students with special circumstances and huge potential, providing them job skills training at the store. Students learn to run a cash register, keep a store organized and functional, and develop customer service skills, all while making progress on their educational goals like earning school to work credits. The store also partners with the school's "Youth Transition Program" and Oregon Vocational Rehabilitation Services.
New Store Manager and Culver resident Ms. Linda Graham is looking forward to re-opening. She shares, "I am thrilled to be a part of the Madras Community and to be working in partnership with the Culver and Madras School Districts."
 
After a brief closure, the Heart of Oregon Corps Thrift Store is set to re-open its doors for a soft opening on October 26, with special sales and discounts.  Business will continue as usual during store hours:  9:00 AM – 5:00 PM, Monday – Friday. Please note, the store will not be open on Saturdays, at least through the New Year.  Tax-deductible gently-used donations gladly accepted through the alley door during business hours (please, no mattresses). For more information about sales, discount days, and donations, go here.
The Thrift Store will celebrate its Grand Re-Opening on Thursday, November 19, through hosting the Madras Chamber of Commerce Business After Hours event at 5pm. Map and directions here.