Heart of Oregon Corps' Thrift Store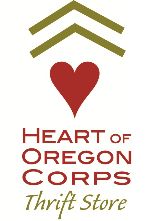 Youth Summer Employment Opportunities:
NEW! This summer the Thrift Store is hiring youth for part-time jobs at $12.75/hour, for eligible applicants ages 16-24 years old.  If you are interested in applying for one of these corpsmember positions to learn retail job skills this summer. Please apply!
Work begins starting the week of June 28th, all hires must be available to work Tuesday-Saturday, between 12-32 hours a week. 
Time off will be approved for eligible Heart of Oregon's Camp LEAD program participants as needed to do both programs
During the summer months we are unable to provide 1:1 job accommodation supports unless applicants have an outside Personal Support Worker/Job Coach. We can provide training and job carving support to small groups.
Transportation will not be provided.
This is an inclusive opportunity for all students, regardless of disability status
Applications will be accepted through July 7 initially. Check here to see if we are still hiring throughout the summer. 
Applicants will get a phone call about next steps.
In our continued effort to address the most pressing needs in Central Oregon's communities, we have been fortunate enough to have the opportunity to engage students who experience varying abilities at our Thrift Store in Madras. During the school year, these students and other high school students learn work skills and earn high school credit while volunteering their time at our store. They learn retail and customer service skills along with countless other soft workplace skills, preparing them for future employment opportunities. 
Grand Reopening Announcement: The Thrift Store will begin to reopen the week of July 6th with a Grand Reopening Event on Saturday, July 10th.   Mark it on your calendar, we hope you will be able to join us that day!
Store Hours *Due to COVID-19, the Thrift Store is CLOSED to the public currently.
| Age | Location | Program Length | Compensation |
| --- | --- | --- | --- |
| 16-20 | Madras | One school trimester minimum | Student Volunteer position |
| 16-24 | Madras | Summer | $12.75/hour |
| When | Next Hiring | Education |
| --- | --- | --- |
| School Year | Rolling applications | Earn credits & build resume |
| Summer | July 7 | School-to-Work credits |
Sound like the right opportunity for you?

Please note: when you complete your application, you will be redirected to a login page. This means your application has been received; you do NOT need to log in.
For printable version of HOC Application