COYCC: Central Oregon Youth Conservation Corps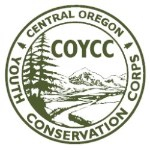 COYCC, our seasonal summer program run in partnership with the United States Forest Service, hires young people ages 16-18 from across Central Oregon for 8 weeks of environmental conservation work. As corpsmembers, these young people will learn job skills, earn wages, and become the next generation of conservationists through projects that improve public lands and keep local communities safer from wildfire. They will forge close bonds with their crew members, learn the importance of teamwork, and complete the program with a lifelong sense of pride at what they have accomplished. The program employs over 90 Central Oregon teens each summer who will earn Deschutes County minimum wage for 4-day work-weeks over the course of an 8-week long summer program. This program is for Central Oregon youth only and is not a residential program.
Applications are now closed. Check your email and phone regularly to see if you have been hired!
More information