Making a House a Home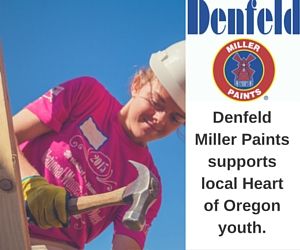 We first met Denfeld Miller Paint at a COBA (Central Oregon Builder's Association) gathering. We approached them with stories of our mission success among young people and about a then upcoming project with our YouthBuild program. They were immediately interested in learning more about our program and how they could help out. Denfeld Miller already does quite a lot for the Central Oregon community. They donate materials and services to over 50 nonprofits in the community and are constantly creating jobs for those skilled in the paint trade. The family owned and operated business has been serving the C.O. since 1975.
Our current project in Madras will build 6 affordable homes meant to house agricultural workers in the area and teach them how to become responsible homeowners. The project is on track to be complete by 2017, but as the framing, drywall, windows and fixtures went up on the first house, we were still missing a critical part of what makes a house a home:  paint. Color. We feel lucky and grateful that Denfeld Miller Paint has very generously offered to donate ALL paint for ALL 6 homes throughout the course of the project! For us, this means more money going directly to operating our youth job skills training and education programs. They have also expressed heavy interest in being involved with our youth through mock interviews, and even possibly considering hiring some of our alumni one day. We look forward to continuing and growing our partnership. Thank you, Denfeld Miller Paint, for supporting local youth. We are humbled by your generosity!